Melissa's Birthday BBQ Party
June 96 at Sam's house
---
If you have a very fast link or you know you're going to look at all of these pictures in their 8 inches full blown version. Look at the Mega Melissa Birthday Page.
---
Birthday girl, look here... [Click]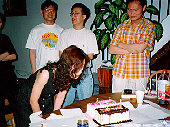 While Melissa was blowing the candle, Anton was thinking, "I can do the same with my hands tied..."

---
Here is the rest of the gang chatting beside the BBQ grill, doing Karaoke, and of course, surfing the net checking out my home page.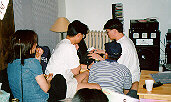 ---
You are visitor
since June 4th, 1996.
---
Wesley Chuen, wkc@dorsai.org
Copyright © 1996 Wesley Chuen